Hello!
We've made available on GitHub the STL's of the 3D printed parts of your B2X300.
These files might be updated so keep an eye out on our GitHub repository:
https://github.com/beeverycreative/B2X300-hardware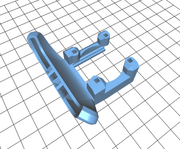 We invite you to share any modifications or new parts for the B2X300 you have designed by opening a new thread on the forum. Also, feel free to comment below if you require any part that is missing of if you find an error in any of the files.
Cheers!