Connect with your social network account
---
Dneves, cool box. Can you share the method of the hinges. I am looking for a good solution to model an opening case.

Regards Halford
---
Posts: 5
Joined: 03 Sep 2015, 16:13
---
HALFORD wrote:Dneves, cool box. Can you share the method of the hinges. I am looking for a good solution to model an opening case.

Regards Halford
Hi Hallford! Thanks, glad you liked! I will post a more detailed pic as soon as possible!
pedrodantas wrote:Tricopter v4 ( my first 3d printed)
Nice work Pedro!
interesting project! Keep us updated with the work progress! I'm curious about it!
---
Part
: Raspberry case
Material
: PLA
Resolution
: 0,2mm
Design
:
http://www.thingiverse.com/thing:710698
---
Great Topic Dneves!
Also great to see the things all others are printing. I haven't touched my printer in the last 3 weeks but yesterday was a good day for it.
Part: Filament stand (Added 4x bearings a printed two width sizes to suit BeePLA reel and 1kg Reel)
Mat: PLA
Res: 0.2mm
Design:
http://www.thingiverse.com/thing:281848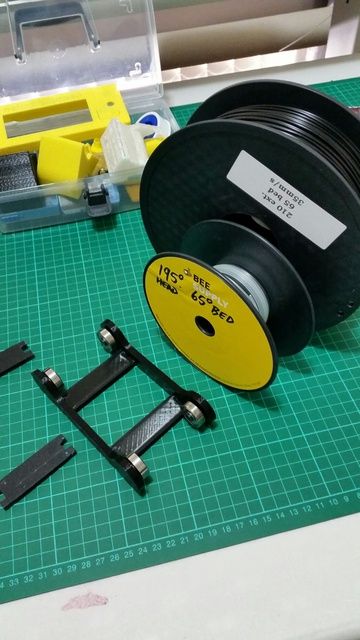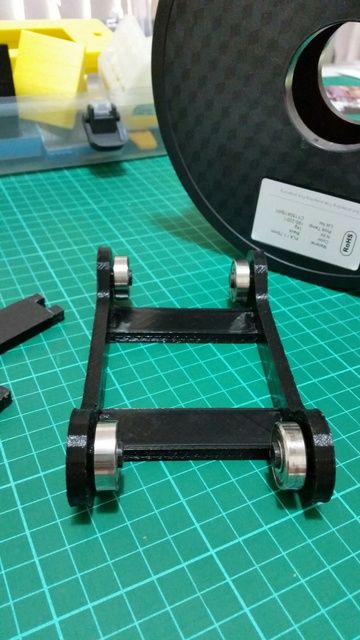 ---
That's really nice Tizz!
Very simple and easy to change the spool!
---
I've printed this a few weeks ago:
Part: Trumpet Mute
Description: Allows for playing the trumpet more quietly, scaled down for Piccolo Trumpet
Material: PLA
Design:
http://www.thingiverse.com/thing:820990
(I didn't add the electronics yet)
---
---
Hello Bees,
I printed this Voroni Vase.
This was ambitious project in time 14hrs and also size, biggest thing printed so far.
Also tests the machines durability on a long print.
Started late afternoon 4pm and left running overnight
Having left a few previous prints to get on with it i felt confidence to leave it alone.
Here is the photo
http://postimg.org/gallery/jt6qz3ju/
http://postimg.org/image/kpuwi2b8p/
This was a good test of the machine.
Happy Prints.
Halford
---