Connect with your social network account
Hello,

Does the B2X300 support printing with flexible filaments - TPU, TPE, other? I don't see them in the specs, but still, do you have some experience, tricks, or is it possible at all?

Thanks!
---
Posts: 165
Joined: 12 Dec 2017, 11:44
Hello Ilindov,
The printer can indeed print TPU but requires reprinting a part of the extruder to avoid the filament from escaping on the extruder (due to it's flexibility), the part is still being tested hence why it isn't public for now, but you can try it if you like, you can download it here
https://mega.nz/#!IeJ2SCLJ!sWSQhd2iAQNg ... DPC0c3k-8w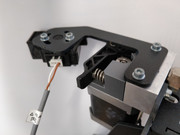 You will need to install it like it is shown on the photo, printed in telegray, it replaces the lower part of the extruder drive, it will provide better filament guidance after the filament is pushed by the extruder.
Just a reminder we have a TPU profile available for it on
https://github.com/beeverycreative/B2X300-resources
.
Best regards
---
Thank you very much for the detailed answer! Really appreciated!
---
Posts: 165
Joined: 12 Dec 2017, 11:44
Glad to help
Feel free to ask any other questions.
Cumprimentos
---
Hello ilindov,
have you tried to print this part, assembled in your printer and print with flexible filaments?
DomingosRodrigues
, do I need to print this part in dual extrusion mode or can I print it using only one extruder?
Thank you!
---
Posts: 165
Joined: 12 Dec 2017, 11:44
Hello florbela,

to print that part you only need one extruder.

I use it on my printer, the one from the photo I posted before and had success printing TPU feet and gaskets for my projects, used about 200-300g of TPU, only had a small issue at the begining due to a nozzle contamination (I had used PLA before and it did not like to be in contact with the TPU on the nozzle), it is best to do a cold pull when changing filament types.

Best regards
Domingos Rodrigues
---
Thank you for your quick reply DomingosRodrigues
I saw in another post in this forum that aparently this part should be printed in PETG, is that true or am I mixing everything up?
viewtopic.php?f=17&t=3331
What about the instructions to assemble it?
Another problem I have is that I always use extruder 2 for all parts I design, but for this adapter it always want to print with extruder 1, even with that one disable in cura...I will keep trying to sort this out...
Many thanks once again
---
Managed to print the part in PLA
looking at the photos, will it do its job?
I've checked and tested the orifice where the filament goes through and it looks the filament passes without any restrictions.
Is there any instructions to assembly this to the 3D printer?
Many thanks
Attachments

IMG_5161.jpg (99.14 KiB) Viewed 2873 times

IMG_5160.jpg (124.2 KiB) Viewed 2873 times

IMG_5159.jpg (91.84 KiB) Viewed 2873 times
---
Posts: 165
Joined: 12 Dec 2017, 11:44
Hello Florbela,
Yes PETG is much more suitable for this part as it will be exposed to the continuous heat of the extruder motor and PLA can soften in those conditions, although it should hold for some time, not sure how long though
The defects you have on the printed part are due to not printing it in the correct orientation, the files are already pre-oriented and should be printed as is. Also I recommend printing at 0.1mm layer height to properly print the small
There are two files on the Zip file available above, one is the normal one, the other a mirrored one, the mirror part is meant for E2, the normal part is meant for E1.
I don't have any instruction on how to assemble it but, it should be relatively straight forward as is replaces a already existing part and tou,to install it you need to:
- Remove the extruder motor from the machine
- Remove the metal PTFE block and filament sensor from the motor
- Unscrew the arm with the spring (Hex 2.5)
- Carefully remove the arm and the spring storing both for later, be careful as the arm has a small bronze bushing around the screw, do not lose it
- Unscrew the bottom black part (Hex 2.0)
- Replace the black part with your 3d printed part
- Screw the new part in place with the screw that used to hold on to the black part (Hex 2.0)
- (The trickiest part as it takes some strength) Re-install both the spring and the lever as the spring is quite stiff this can take a few tries to get into place
- Insert the brass insert until it is inside the black lever and inside the 3d printed part, then tighten it back up with the lever screw, if the screw doesn't go in,your brass insert is incorrectly positioned (didn't go down far enough).
Best regards
Domingos Rodrigues
---