Connect with your social network account
Hello!
We've made available on GitHub the STL's of the 3D printed parts of your B2X300.
These files might be updated so keep an eye out on our GitHub repository:
https://github.com/beeverycreative/B2X300-hardware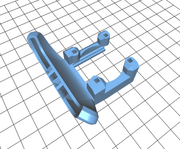 We invite you to share any modifications or new parts for the B2X300 you have designed by opening a new thread on the forum. Also, feel free to comment below if you require any part that is missing of if you find an error in any of the files.
Cheers!
BEEVERYCREATIVE
Research and Development Team
---
When will these be available i'd like to print the fan housing again
---
Posts: 165
Joined: 12 Dec 2017, 11:44
Hello Rick Rick, we will post some updates soon
---
Hi
@RickRick
,
Here ya go: By the way, how are things with your B2X300?
Cheers!
BEEVERYCREATIVE
Research and Development Team
---
Posts: 1
Joined: 22 Mar 2019, 06:22
Hello,

I can't seem to find a full CAD model of this printer. I would like to design several parts, as well as an enclosure and other things in advance so I can design ahead.

Could you please refer me to such a model?

Thanks,

Alon.
---
Hey Alon,

Please name the parts you are interested in redesigning so we can send you the specific files.

Cheers!
BEEVERYCREATIVE
Research and Development Team
---
What about the frame files and such? Do you not provide the full open source native cad files to modify as we please?

Thanks
---