Connect with your social network account
Hello,

It has been a long time that i have my printer but because of multiple little problem, I never print anything.

I've solved some of my problem but now, after 30min of printing the extrusion of the filament just stop. The printer doesn't stop moving but the filament don't come.
This problem appears instantly : The printing goes very well and 2 min after there is no more filament extruding.

Could you help me?

Sorry for my English..
---
Posts: 189
Joined: 12 Dec 2017, 11:44
Hello arnaudb94,
have you tried executing the improvements to the assembly found here:
viewtopic.php?f=8&t=784
Especially the ones on pages (3,4,5,6,16,17,18)as they solve most of the extrusion issues that happen with the helloBEEprusa.
The filament lubrication is essential for PLA filaments as this machine uses a full metal heatbreak that allows very high temperatures and various materials without much maintenance but has a tendency to adhere too much to PLA (as it has one of the lowest softening temperature of all 3d printing materials) causing it to jam during prints unless a small film of oil isolates one from each other. I recommend using WD40 as the lubrication oil as it withstands the high temperature easily
Best regards
---
Thank you for your quick answer,
I have check all the improvement that you gave me. I do not understand the first one (pages 3). I have also tried to print the filament filter but.. same problem.. In the middle of the printing there is no more extrusion. But the printer doesn't stop moving.
here is a picture: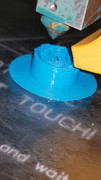 https://postimg.cc/8sv3cvxD
I am printing with Cura (and PLA).
Thank you !
---
Posts: 189
Joined: 12 Dec 2017, 11:44
Hello Arnaudb94,
You can see this video that will guide you through the stepper driver current adjustment process, that reduces the ammount of heat generated by the extrusion motor helping to improve the extrusion. Available here:
https://www.youtube.com/watch?v=D-cvOU4 ... e=youtu.be
Temporarily you can use a clothespin to hold some sponge impregnated with oil.
Also ensure you are using the recommended printing profiles, as wrong settings lead to jams and problems printing. Available here:
viewtopic.php?f=8&t=785
Best regards
---
Hello,

Thank you for all those advice.
I have bought PETG Filament and I doesn't have this problem anymore.
I am going to make some print with the PETG Filament and I will try another time PLA.
I let you know if I have other problem or how do I print in PLA.

Thank you very much!
---