Connect with your social network account
Hello,

Does the B2X300 support printing with flexible filaments - TPU, TPE, other? I don't see them in the specs, but still, do you have some experience, tricks, or is it possible at all?

Thanks!
---
Posts: 103
Joined: 12 Dec 2017, 11:44
Hello Ilindov,
The printer can indeed print TPU but requires reprinting a part of the extruder to avoid the filament from escaping on the extruder (due to it's flexibility), the part is still being tested hence why it isn't public for now, but you can try it if you like, you can download it here
https://mega.nz/#!IeJ2SCLJ!sWSQhd2iAQNg ... DPC0c3k-8w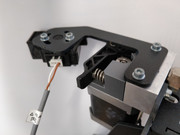 You will need to install it like it is shown on the photo, printed in telegray, it replaces the lower part of the extruder drive, it will provide better filament guidance after the filament is pushed by the extruder.
Just a reminder we have a TPU profile available for it on
https://github.com/beeverycreative/B2X300-resources
.
Best regards
---
Thank you very much for the detailed answer! Really appreciated!
---
Posts: 103
Joined: 12 Dec 2017, 11:44
Glad to help
Feel free to ask any other questions.
Cumprimentos
---