Connect with your social network account
Posts: 12
Joined: 04 Sep 2016, 14:31
Hello,
finally i assembled my HBP and now i have a question regarding the power switch cabling.
I have followed the instruction in the video on the website and now i have the following connections:
- green-yellow behind the side of the cable-connector
- blue in the middle
- black behind the switch above the two small connectors
Picture: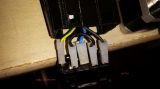 With this setup, nothing happens, the power supply doesn't start.
If i exchange black and green-yellow, the printer starts, but the power-switch is without function.
Can someone please tell me the correct cabling?
Best regards
Frank
---
Hi

Hopefully you've figured this out already.

If not, my power switch is set up nearly the same as yours except the black wire that connects back into the switch is down one space below and the other black ground wire that connects back into the power supply is directly above it, not to the side like yours is.

Hope this helps!
---
Hi Frank33456
elmo288 is correct, if you do it this way, it will work
BEEVERYCREATIVE
Research and Development Team
---
Posts: 12
Joined: 04 Sep 2016, 14:31
Hello,
thanks for your replies.
Yes, i figured it out. The images in the assembly manual were too small for my old eyes
. With a multimeter i have found the correct connections.
Again, thanks
Best regards
Frank
---